NAD Accountability System
The North American Division Office of Education has voted to work collaboratively on a researched-based, meaningful accountability model. This accountability model is framed in this document to provide a systematic process to guide continuous improvement. The conceptual framework is based on a review of research on effective education accountability systems (Bae, 2018; Jimenez & Sargrad, 2017; Marion, 2016; Martin, Sargrad & Batel , 2016; Woods, 2018).
Accountability models can serve many purposes, including sharing information, measuring progress toward shared goals and supporting greater educational equity. This conceptual framework is built on an accountability system that is designed to be meaningful for our schools. It includes measures for student success, accountability of leadership, a development of systems for supporting schools and administrators; tools for assessment and accountability; standards for engagement of stakeholders and goals for continuous improvement.
Curriculum, instruction, assessment and professional learning are critical success indicators for school systems. All levels of system operation have to link back to improvement of student achievement. High expectations must be in place for school system leaders, principals, teachers, students and their parents.
The NAD recognizes that not every school will have unique goals and timelines for implementing this framework. The goal of this accountability outline is to create a common language, similar expectations, and a standardized sample priority reporting system.
Guth et al., adroitly puts it this way, "assessment in and of itself does not constitute a standards-based accountability system. Assessments must be aligned with content standards and designed to measure progress toward them. Moreover, a strong accountability system must work to build the capacity of teachers to implement content standards at the classroom level and should include incentives for the continuous improvement of performance not only at the level of the individual student but also at the level of the school".
This framework is designed to create an effective accountability system where the components are not standing alone but are connected and work together to produce the desired outcome – the highest levels of excellence in our schools, while engaging in an ongoing relationship with Jesus.
"The source of [true] education is brought to view in these inspired words that point to the Infinte One: In Him "are hidden all the treasures of wisdom and knowledge." Colossians 2:3. The world has had its great teachers, men and women of giant intellect and extensive research, people who have stimulated thought and opened to view vast fields of knowledge. But there is One who stands higher than they. As heavenly bodies in our solar system shine by the reflected light of the sun, so, as far as their teaching is true, do the world's great thinkers reflect the rays of the Sun of Righteousness. Every gleam of thought, every flash of the intellect, is from the Light of the World." Education p. 14
Central to this conceptual framework is the mission and purpose of Adventist Education. Adventist education strives to combine spiritual growth, academic excellence and to prepare students for the demands of an innovative educational vision that provides the intellectual agility, flexibility, and creativity needed to succeed across various social and professional settings.
"It is his [the true teacher] ambition to inspire them with principles of truth, obedience, honor, integrity, and purity—principles that will make them a positive force for the stability and uplifting of society. He desires them, above all else, to learn life's great lesson of unselfish service." Education, p. 29-30.
This conceptual framework has six broad categories to outline the NAD concept for accountability. The categories are:
1: Alignment of NAD content standards.
The foundation for any accountability system is a set of clearly defined content standards that spell out what students should know and be able to do.
2: Student performance standards and assessments.
Performance standards (proficiency scales) and assessments to measure students are meeting the standards are established and implemented.
3: Ongoing data analyses and accreditation.
Performance standards for schools are established and become the basis for evaluation, support and intervention. Schools should be encouraged to analyze school, teacher and student assessment data in the accreditation cycle.
4: Continuous improvement.
Schools continue to self-evaluate and grow with the support of stakeholders and through consistent evaluation of action plans and meeting stated goals and benchmarks in the CI process.
5. Stakeholder involvement and engagement.
Establish and cultivate broad-based support with stakeholders. This will include involving school boards, administrators, teachers, parents, students, churches and the wider school community in all stages of CI as appropriate.
6. Continuous improvement of the accountability system.
A final critical element of an effective accountability system is a periodic, systematic checking on the effectiveness of the accountability system.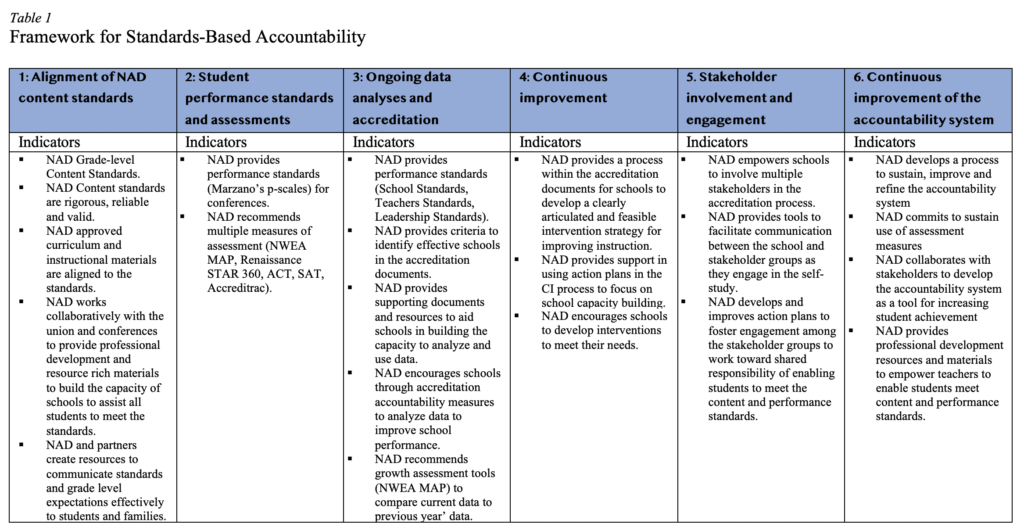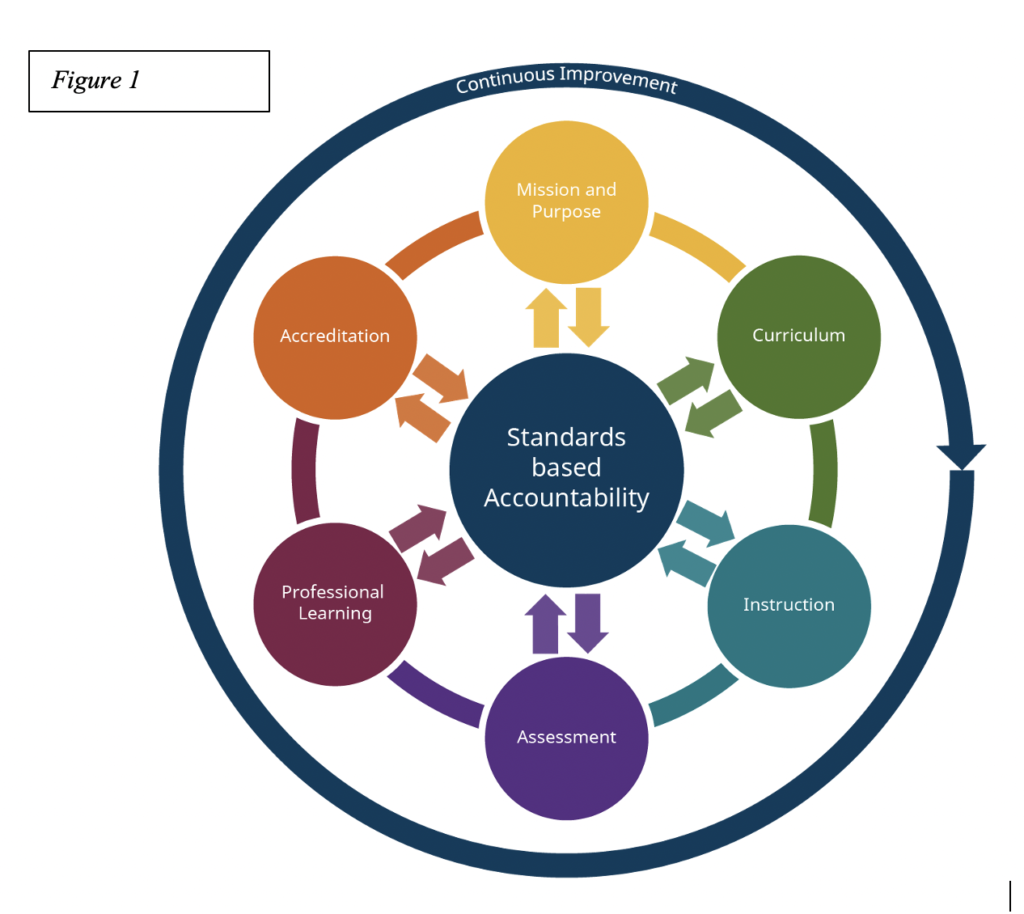 References
Bae, S. (2018). Redesigning systems of school accountability: A multiple measures approach to accountability and support. Education Policy Analysis Archives 26:8.
Benson, D.J. (2012). The Standards-based Learning Cycle. The Colorado Coalition for Standards-based Education.
Guth, G., Holtzman, D., Schneider, S., Carlos, L., Smith, J., Hayward, G., & Calvo, N. (1999) Evaluation of California's Standards Based Accountability System. Final Report.
Heflebower, T., Hoegh, J., Warrick, P., Hoback, M., & Marzano, R. (2014). A School Leader's Guide to Standards-Based Grading. Perfect Paperback.
Jimenez, L., & Sargrad, S. (2017). A New Vision for School Accountability. Center for American Progress.
Martin, C., Sargrad, S., and Batel, S. (2016). Making the Grade: A 50-State Analysis of School Accountability Systems. Washington: Center for American Progress.
ASK Process: High-Quality Processes, retrieved from: http://www.askprocess.com/resources/articles/CMCrossroads/0603HighQualityProcess.html.
Marion, S. (2016). Considerations for State Leaders in the Design of School Accountability Systems under Every Student Succeeds Act. National Center for the Improvement of Educational Assessment. Dover. NH.
NWEA MAP, retrieved from: https://www.nwea.org/map-growth/ (January 2020).
Woods, J. (2018). 50-State Comparison: States' School Accountability Systems. Education Commission of the States.