The NADOE office has been asked to outline attendance protocols for our distance learning realities. Below you will find an outline from the company for marking attendance in Jupiter.
The NADOE team are not intending to supersede local regulations for attendance but rather outline options for solutions to what may be your current attendance issues in Jupiter.
How to adjust attendance codes in Jupiter:
Add "Distance Learning" with the "Count as" being Present.
Go to: Setup | Attendance
If there is any kind of engagement – either face to face, email, etc – the students can be marked as present (you may need to be flexible with weekend work and work accomplished in non-traditional time frames)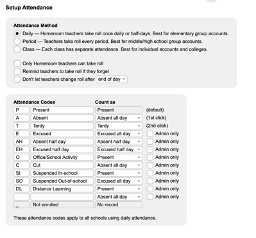 Attendance Codes Setup – jupitered.com/help/?rollcodes
For schools using Jupiter's LMS, there is now a "Remote Roll" feature. Jupiter can automatically mark attendance for remote learning / distance learning / online classes. For example, you can set it to mark students Present if they login for at least 30 minutes for your class between 7 AM and 4 PM; otherwise they are marked Absent at the end of the day. You may view how long each student was logged in and override their attendance to make exceptions.

jupitered.com/help/?pods